My Andy Rooney impression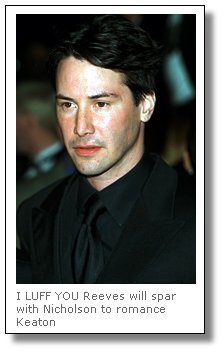 The captioned picture above is from EW.com's version of the lastest news on the three movies that Keanu has slated for 2003. The caption just struck me as a bit bizarre. Does EW always put stuff like that? LUFF? Sounds like the copy writer has a crushy-wushy.
Not that that's a bad thing.....
Also, has anyone else noticed that since you've gotten a computer that your handwriting sucks? I'm trying to write some holiday cards and I'm appalled at my own scribblings.
it wahs | from inside the mind of krix at December 05, 2002 11:46 AM .