Non-non-non-heinous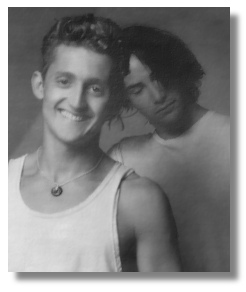 There's an article/interview with Alex Winter over at CNN's People section that includes this amusing anecdote...(via keanu.org)

It's been over a decade since he and Keanu Reeves braved the time-space continuum as half-baked slackers in the cult comedy "Bill & Ted's Excellent Adventure" (1989) and its sequel, "Bill & Ted's Bogus Journey" (1991).

In that time, their characters' mantra -- "party on, dude!" -- has become enshrined in the pop culture lexicon. And Winter, now 37, has never stopped being recognized by rabid fans as his movie alter ego, Bill. "To this day, no matter where I am in the world, it happens every day," he says.

Well, except once, on an autumn evening a few years ago, when he and Reeves met for a quiet dinner in New York City. Neither had paid much attention to the date, so when they walked out of the restaurant into a crowd of costumed people thronging the streets of lower Manhattan, they were thunderstruck. "We were like, 'Oh, s--t! It's Bill and Ted in the middle of the Halloween parade,'" remembers Winter, with a grin.

He and Reeves -- whom Winter still calls one of his closest friends -- waited for their cover to be blown. But then: "Nobody batted an eyelash. We just looked like two fat, older guys who were trying to be Bill and Ted," laughs Winter.
Alex certainly isn't residing in the "where are they now?" file. He's been busy directing. Click the pic or the link above to read the whole article.
Party on, Bill.....

media spot | from inside the mind of krix at November 14, 2002 11:17 AM .