I need guns, lots of guns....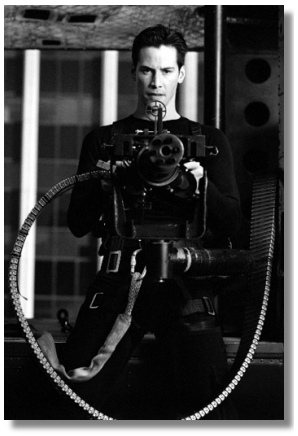 Sometimes I wish I had a Neo to deal with idiots for me.
This morning, as Roi (he says "Hi" btw) and I were coming off the freeway, there was a weird noise coming from my car.
I'm all, "It's freaking me out!"
and he's all, "I think it sounds cool"
and I'm all, "Idiot! get out and look!" (once we stopped at the bottom of the exit ramp.)
So it's a flat, on a brand new tire I bought 10 days ago.
Luckily, not 50 feet from the exit is the place I bought the tire.
So I limp around the corner and pull into their service lot.
I explain to the freshfaced little tiremonkey "Um, yes...I just bought this tire here 10 days ago and I just got a flat coming off the freeway and I'd like you to replace it"
Get this...monkeyboy sez: "Well, this is a 'ride-on'. You drove on it so it's not under warranty."
Me:"Excuse me?"
The steel-belted gibbon goes and calls his manager. They'll replace it at cost.
Fuck that.
This makes no sense at all! How on earth are you not supposed to drive on a flat tire at all? It's not like it was flat when I left the house.
It's not like it was losing tread or wearing out so I knew I needed to have it replaced. It's 10 days old!
So I have them put on the spare, and leave the tire there so I can come to my office, and find my receipts. I've bought three tires from these people in the past two months.
Ok, as I was typing this out, monkeyboy calls and tells me that they don't have my tire in stock. He's going to put a used one on my rim for nothing and I can come down monday and deal with the head assratchet.
I just don't get the logic of "you drove on the tire so it's your fault."
I came off the freeway and pulled into the lot.
God, I'm going to let the manager have it on monday.
Because something's defective and it sure as shit isn't me.
it wahs , off topic | from inside the mind of krix at November 09, 2002 10:22 AM .