Keanu Slept Here
Thank you kaz, for this scan from Sunday's paper down in Sydney.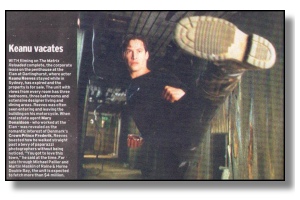 Looks like the penthouse apartment that Keanu stayed in while filming The Matrix Roloaded and Revolutions is up for sale.
You know, if just 4 million of you would buy something from the keanuvision online store, I could swing it.
I'd throw a party and invite you all and everything.
media spot | from inside the mind of krix at October 28, 2002 10:30 AM .