Pick me up
I really do have things I should be doing besides browsing eBay, but I just can't help myself. I haven't bought anything for a while, but I like to make sure I'm not missing anything. One of the items that comes up every once in a while is a guitar pick.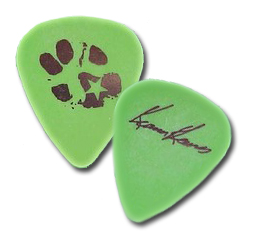 Twenty bucks plus will get you a tiny piece of plastic that once rode around in his pocket (maybe). I'll pass.
Now, I do have one of Bret's picks that I got at the Santa Clara show (April '01). Yes, I admit that I tipped the bouncer 10 bucks to snag it off the stage for me, but in my defense a) I was actually at the show, so it has actual memories attached. b) I was hella drunk AND it was my birthday. c) I actually use it to play with (when I get around to playing).
I can't see buying one at auction, though.
Picks and drumsticks are great souvenirs from a show, and I bet with a little feminine effort, you could get one from the source.
Here's my suggestion: Go to the boys department of your local whatever-mart and pick out the smallest white t-shirt that you can still squeeze into. And grab a pack of iron-on paper for your printer, too.
Click the image below for a reversed, ready-to-print iron-on, print it out and apply it across the chest.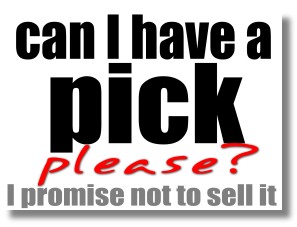 Get creative, slit the collar, cut off the bottom and make it a belly shirt, go nuts. As long as the message can be read. Now, wear it under whatever you wear to the show and wait for a good opportunity to flash your message. The mere act of taking off your shirt is sure to get some attention.
Timing is key. Your odds are better toward the end of a song at the end of the set.
A smile and a shimmy can't hurt either.
Good luck!
it wahs | from inside the mind of krix at October 01, 2002 02:23 PM .