Dogstar S!ms
I couldn't help myself. I had to take a shot at making a house of Dogstar S!ms. I need to re-do them all, Bret's face is paler than his body, I have to find a good picture of Rob and re-do him, because I just used a generic head that kind of looked like him, and Keanu is WAY TOO SKINNY.
I hate that it takes forever to furnish a damn house, too.
Of course, it was only inevitable that I had SimBret in a pink speedo playing guitar before too long.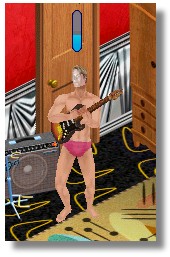 The funny part is, look what was going on while Bret just kept on jamming.
Now, I know you're thinking.
"Well...maybe he didn't know about the fire."
Wrong. He freaked out a little bit with SimRob, went and called the fire department and then went to play guitar.
Now that's a devotion to music.
Yep, I may be hooked on this game already.

simulated | from inside the mind of krix at September 25, 2002 04:08 PM .