Dogstar Newsletter

There's a new Dogstar Newsletter over at DogstarOnline.
It has the dates and venues for the Thailand/Japan shows and a little Q&A with the band.
Go check it out and if you'd like to subscribe to receive it, you can do that too.
In other news....well, there is no other news, really. Some more Matrixy spoilery stuff, but I'm not going there.
Instead, let's observe Ass Friday.....shall we?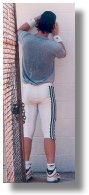 Reason enough for me to celebrate....
dogstar rocks | from inside the mind of krix at September 20, 2002 01:24 PM .