Metrophage
I recently found Richard Kadrey, the author of one of my favorite books-Metrophage- has a site and has published Metrophage along with some other work online. Which is great because both it and Kamikaze L'Amour are out of print.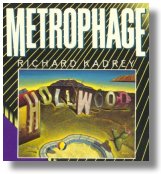 I really recommend this book if you are a fan of the cyberpunk genre.
I'm also looking forward to reading Kamikaze L'Amour, too.
Mr. Kadrey also has some interesting collage and photography works up at his site.
I swear, finding him and his work online was like finding a treasure.
I've hung onto my ratty copy of Metrophage for years. It has some really special memories assocciated with it, plus as I've said, It's a really good book.
In fact, If Keanu hasn't read it, he should.
So should you.

off topic | from inside the mind of krix at September 19, 2002 11:36 AM .