Evers Print
This print of a drawing of Keanu really caught my eye. I really like the drawing, but the bright blue background (which you'll see on the auction page) I'm not crazy about. I'm tempted to ask the artist if he'd do a desaturated version of it, but I don't want to offend him.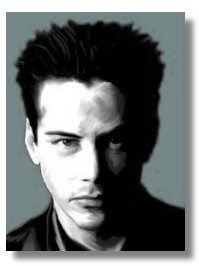 Mr. Evers does really nice celebrity portrait work with a pop/warhol feel to it.
He has quite a few up for auction, and you can also check out his website, MichaelEvers.com.
If I had the money I'd ask him about custom work.

it wahs | from inside the mind of krix at August 30, 2002 11:01 AM .