Dude!
One of the things I deal with as a Keanu fan is having to explain to unenlightened ones that really....he's NOT Ted "Theodore" Logan. He's bright and thoughtful and actually pretty sophisticated.
Sometimes he works against the argument.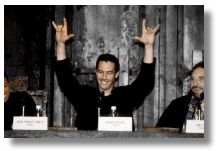 Thanks to the Keanu Pic of the Day Club for this pic from a news conference this May in Sydney.
Ah, well.....dudes will be dudes, I guess...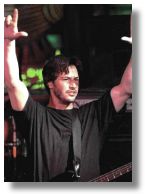 spoony | from inside the mind of krix at August 21, 2002 11:00 AM .