Thump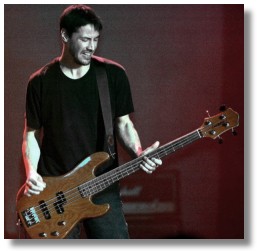 Ever since the horrible cassette death incident, I've been limited to listening to whatever is on the radio during my drive time. As I cycled through the presets this morning (which is my general habit since most of the radio here in the Las Vegas valley sucks) I ended up listening to some Beatles on one of the "dinosaur" rock stations. My fingers took on a life of their own, thumping on the steering wheel.
Long story short, I'm thinking of learning bass.
My old guitar teacher is located right around the corner from my job and it would be so easy to pick up a weekly lesson. If I can curtail my eBaying for a month or so (gasp!) I should be able to swing buying an instument.
It just looks like so much fun, and I could enjoy "getting my Reeves on".
Oh stop. You know what I mean.
it wahs | from inside the mind of krix at August 19, 2002 01:57 PM .