The jasmine's sweet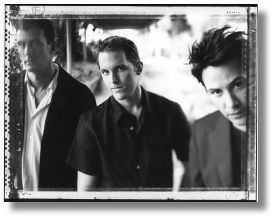 They moved down into town
Not to be forgotten
To stay around
The jasmine's sweet
The air is complete now

They set up a cornerstore
To try and make their lives
A little more
Their girl was blind
But she saw more
Than you or me will ever see

You are the sun
I wanna see everything
I will not run
I wanna be everything in you

They sold bait and fishing string
And groceries and things
Everybody needs
The jasmine's sweet
The air is complete she said
But lately at the cornerstore
I try and make my life a little more
I hang around to see her
A little more

You are the sun
I wanna see everything
I will not run
I wanna be everything in you

They moved down into town
Not to be forgotten
To stay around
The jasmine's sweet
The air is complete she said
But lately at the cornerstore
We try to make our lives
A little more
I hang around
Just a little more

~
CORNERSTORE
Written by Bret Domrose, Rob Mailhouse, and Keanu Reeves
As I try and make my life a little more, this song makes me feel good.
I'm in a quiet mood. This is a perfect song to listen to.
It brings back hope and good memories.
If I close my eyes, I can see him shaking his head and singing along on the break.

dogstar rocks | from inside the mind of krix at August 17, 2002 05:58 PM .