Super-duper Hero
OK...according to this link (via reeves drive) it apparently is "confirmed" that Keanu will play John Constantine in the upcoming Hellblazer movie. The Superhero Hype article cites this as its source, but when I went there, I didn't see anything about Keanu.
One thing that I did see is that many of the Hellblazer fans over at Superhero Hype's forums are none too pleased about Keanu playing their beloved Brit hero.
Refreshingly, most have well thought-out reasons beyond "Keanu Sux0rs!"

"Listen, for me this is not a matter of bashing Reeves. I actually kinda like him in The Matrix and The Gift. It's just that he's WRONG FOR THE PART! Constantine is this cynical, streetwise, carved-by-life character. You have to look at him and be able to say, "gee, this guy went through some really tough times". I don't think Reeves has the looks, attitude or acting style that fits this character."
Then there's this gem:

"Hate to break it to you man, but your English accent sucks."

"I think my accent is good."

"Look, I didnt want to tell you this, but it's Keanu Reeves bad."

"Whoa. . . didn't realized that. . . wait, 'Keanu Reeves in Dangerous Liasons' bad, or 'Keanu Reeves in Much Ado About Nothing' bad?"

"Keanu Reeves in 'Dracula' bad."

"My god. . . that bad? I had no idea. . . "
Sorry, but...hee. That's kind of funny.
He does have his defenders.

"I'm going against the majority here, but I think it's a fine choice. After the HUGE success of the upcoming Matrix sequels, he'll be a major money maker for this project. Just take a chill pill and give him a chance. He's not a bad actor, you're just buying into all the critics bull****t. I look forward to seeing him in this movie."
As I understand it, the "Hollywoodization" of Constantine began way before Keanu got involved, and fans of the character are already annoyed. This just adds fuel to the fire.
Personally, I've decided that I would like to see Keanu in this role. While the movie Constantine may stray from the original, those who don't have a predetermined concept of who he is supposed to be will enjoy it.
And if he doesn't do the movie, there are thousands of lesser-known superheroes that are just dying to be made into a multimilliondollar picture.
Like...The Red Bee.
His superpower?
He keeps vicious trained bees in his belt buckle.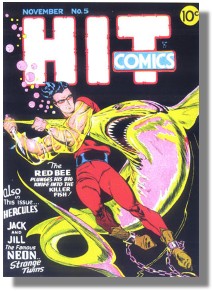 I'm not even going to get into the "The Red Bee Plunges his BIG KNIFE into the KILLER FISH!" innuendo...
(Red Bee babble inspired by some comments over at billegible.org)
cinema , constantine | from inside the mind of krix at August 01, 2002 02:02 PM .