Things to do on eBay when you're bored
I'm bored out of my skull today, so I've been cruising around eBay a bit.
I'm hoping to get this cool creepy postcard.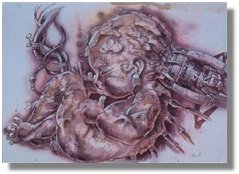 It'll be neat framed in the bathroom.
I saw these loveley Tibetan embroidery pieces, apparently screen used in Little Buddha. They're nice. If it were in US dollars I would consider bidding. They would be nice to frame individually. Maybe as gifts.
Lastly, I want to point out that there are a ton of Matrix II 3-D teaser posters out there.
DON'T bid on the one that has "unloaded" in the title. That's mine, dammit (mtrxhzu).
it wahs | from inside the mind of krix at July 30, 2002 04:41 PM .