Keanu Vino
There's a signed bottle of wine currently up on eBay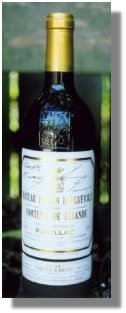 No telling what the reserve price is, and it's certainly not something I'd bid on, because you know me...
I'd just drink it.
The wine itself, a 1995 Chateau Pichon Longueville Pauillac, is worth noting (though the seller seems to have overestimated the value of the wine itself).
I can't imagine that Keanu would give anything as a gift that he didn't enjoy himself, so you might want to invest in a bottle, just in case you're ever lucky enough to have him over for dinner.

it wahs | from inside the mind of krix at July 12, 2002 01:20 PM .