Fishbutt
Ever since the most recent article from The Globe hit my inbox, I've been very, very troubled.
I knew that the making of The Matrix sequels was a huge undertaking that asked so much blood, sweat and tears of the actors involved. Far away from loved ones, facing long hours and possible injury. What kind of harsh taskmasters are the Wachowski brothers anyway? I'm looking forward to the sequels as much as anyone, but I'm wondering if the price paid is far, far too great.




Laurence Fishburne has literally worked his ass off.

::sniffle::


I searched the web for pictures of Laurence's former gluteal glory so I could try and determine when exactly this happened.

I'm pretty sure Laurence had a tuckus way back in the days of Cowboy Curtis.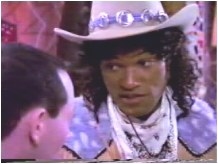 Those chaps didn't defy gravity by themselves.

And I just saw him in Quicksilver recently, where he played a bicycle courier, and we know a man with no butt can't ride a bike.

But I believe Laurence had "back" as recently as the original Matrix film, although it's hard to discern with the length of the jacket that Morpheus wore.




And this may very well be a stunt-butt..


But in other scenes, it's definitely there, in all its muscular, toned wonderfulness. Refer to the dojo scene, or the fight with Smith, if you need confirmation.
So what happened in Sydney this time? One more mystery of The Matrix, I suppose..kind of like that phantom hand in the FedEx scene, maybe Laurence's ass will appear again when we least expect it.
While investigating this I did find out some interesting things about Mr. Fishburne.
Like that he works with UNICEF, is a a playwright and a critically acclaimed stage actor.

So it's pretty safe to say that the sum of Laurence's talents extend much beyond a bodacious boo-tay, but still...
If the price of the mind-blowing Matrix Trilogy is those sweet, sweet Fishcheeks...
Well, that's a darn shame.

(pictures from various sources, including the Keanu pic-of-the-day club, matrix-posters.com, x-entertainment and keanu.org)
also, thanks to Jo.
red pill | from inside the mind of kv at July 06, 2002 01:31 PM .