Virgo
This week's horoscope from freewillastrology.com really seems appropriate for Keanu with the time travel and superhero references, not to mention the genius:

VIRGO (Aug. 23-Sept. 22): Behind your back, your imaginary friend is plotting with your inner child to overthrow your guilty conscience. And that's not all, Virgo. Your future self has time-traveled into the past to enlist the spirits of your ancestors in a conspiracy to unlock your sleeping genius. But wait! There's more. The superhero you used to fantasize about being when you
felt most helpless has been brought to life by the mad scientist in your psyche's basement. Sounds like fun to me!

In other news, there is a tentative Bret Domrose show on June 20th at the Viper Room. So if you are in or are planning to go to LA, be sure to catch the show, Bret really rocks.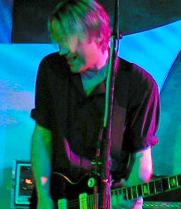 Oh, see that little collage pic on Bret's splash page? It can be seen on his Bio page, too.
Guess who made that?

it wahs | from inside the mind of krix at May 08, 2002 12:14 PM .