he's a ramblin guy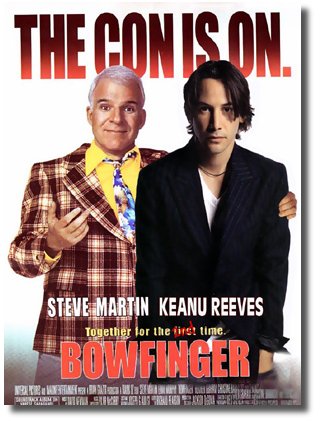 Keanu's Parenthood co-star Steve Martin will be honored with an American Cinematheque Award tonight. I lurve Steve Martin. I used to have an 8-track (yes, I'm that old) of his first comedy album that I completely wore out. He's such such a great versatile actor, author and seems like generally a hell of a guy. Plus, the white hair does it for me in a big way. *swoon*
The Hollywood Reporter has an article that includes this little bit of trivia...

The following year, Martin starred in the hit comedy "Parenthood" produced by Grazer, who went on to produce the Martin starrers "Housesitter" (1992), "Sgt. Bilko" (1996) and "Bowfinger" (1999). Of the latter film, Grazer notes: "When Steve gave me the (Martin-penned) script for 'Bowfinger,' it wasn't written for (co-star) Eddie Murphy -- it was written for a white action star. It was written for Keanu Reeves, literally. I said, 'Why does it have to be an action star?' He said, 'That's the joke.' I said: 'What if it were Eddie Murphy, and Eddie Murphy played two characters? That could be really funny.' He said: 'You know, that'd be great -- that'd be brilliant. Let's do that.' He processed it in about a minute, and he made a creative sea change."
It's been ages since I've seen Bowfinger, I might rent it again to imagine what it may have been like with the original premise.
cinema | from inside the mind of krix at November 12, 2004 12:48 PM .