becky rawks las vegas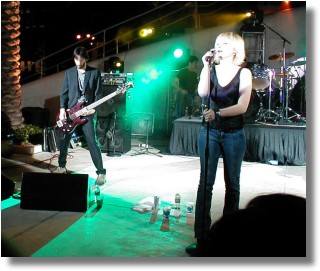 The venue on Friday night was gorgeous. A great setting for a rock show. The crowd was huge, the sound was good. Palm trees and movie stars and beautiful redheads, what more could you ask for ? Well for one thing, I wished I was triplets because there were so many people that I wanted to see and spend time with. I got to the resort early and peeked in at the restaurant where I knew some beckyfans were supposed to be meeting up. I only meant to pop in and say hi, but ended up hanging out and meeting some very cool girls. Aretha, Fortunado, Sharon and Nancy [*due to some emails I've received I want to point out that this is not the Nancy that is known on some of the boards, this was a friend of one of the other girls] it was nice to meet you :) and Tyler! So great to finally meet you. I hope you had a good time. The food was lovely, but I still think we should have thrown a tenspot on the table and hit the bar. I probably came off as really cheap and apologize for that, but they totally should have told us how much that appetizer platter was going to be.
Anyway, afterward I ended up running into Tess (who is my frequent roadtrip buddy and was going to be coming home and staying with me) and her friend Renee in the bathroom so I broke off from the first group. We headed for the Whisky Bar, where I thought we were going to be able to hang out and wait for Brittany but it didn't work out like that because you needed your ticket to get to the bar and I had Brit's. While we were waiting we got to say Hi to Rebecca in the hallway. She was as sweet and friendly as ever. She was carrying a bag of coughdrops and a bottle of throat spray which makes me appreciate her performance that night even more. I finally hooked up with Brittany and we headed for Whiskey Beach.
The good news is we didn't have to wait in line, the bad news is that the people who waited in line were 4 people deep in front of the stage. But it really didn't matter, I was drinking and mingling and schmoozing with Brit. I did fianlly get to see Keanuette who was looking gorgeous (and had a b-day pressie for me, yummy Valentino parfume...Thank you!) and Keana. Roi and Dave showed up and it was very cool to have them there.
The band finally hit the stage around 8:20 or so. Rob walked out with big strides and a bottle of (mostly consumed) wine in his hand. Paulie bounced across the stage in his shocking red mohawk and Keanu....erm....keanu-ed out and strapped on his bass to the squeals screams and hoots of the crowd. Last onstage was Rebecca, with her hands full of assorted liquids to soothe her "Vegas voice".
I didn't see a set list and my memory is redbull-addled but I know that they played some of my favorites including One Thing and Oblivious. I was impressed with the sound because aside from some muddy drums at the start (which was corrected), the sound was great for an outdoor venue.
Keanu's bass playing was strong and steady, not as flashy as I remember from the Spaceland show (could have been my perspective, I was much farther away this tiime). He loosened up as the night went on (once the crowd got more into the music instead of gawking at the movie star there was less chance of his every move upstaging Rebecca). He played with a pick most of the night but did use his fingers on at least one song. I actually noticed that he tends to use just his index finger at times rather than alternating, which is really bad form but when I think about how strong that finger must be....um....the muscles in my thighs twitch. Which has nothing to do with bass playing.
Once again, Keanu sang along (not mic'ed) with a song called Grace. He riffed a little Joy Division in between songs, and in another break he went off on his own little riff. Sweet. Rebecca even commented on it. At the end of another song he stood feet apart, head down and still wagging for a half a minute or more, lost in something I recognized. No sound was coming out and his hands were still, but I nudged Brit and said "look...he's still playing."
Bass and drums took a break and Paulie picked up the accoustic and Rebecca sang I Adore You. Because of her tired throat, she sang the chorus in a whisper. I could hear some of the crowd that knew the song singing along and I suddenly really wished that there were enough of us that could sing it with her, back to her. A whole crowd of becky fans singing "I adore you" to support her angelic whisper would have been a perfect moment.
The set was nice and long (there was no opening act) and they even did a cover of INXS' Don't Change which is much better without those cheesy 80's keyboards.
They ended with the song called Debaser, which is growing on me in spite of the Pixie-blaspheming aspect of it. It's bittersweet though, because like Dogstar's Denial, when I hear it I know it's the end of the show.
When Brit (who really liked the show)
and I finally found Dave and Roi, Roi was all, "Let's go jam."
So we did.
And next time becky comes to town hopefully they'll have a kickass opening act.
becky | from inside the mind of krix at April 18, 2004 10:01 AM .