Revolutions DVD review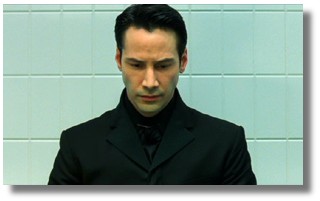 "The first film shook the foundations of Hollywood and instantly became one of the most enduring film images of the modern era. Not only a special effects film, The Matrix blended an incredibly intricate storyline with mind-blowing special effects, something which audiences took to immediately. A sequel wasn t immediately on the cards, but with the film's success it was probably inevitable. The Matrix Reloaded was born.

The second film tried to take the action and, more importantly, the story to a new level. Special effects were again the focus with some of the most visually appealing showcases sequences since, well, the first film. The narrative was really beefed up the second time around, much to the detriment of keeping the audience in touch with what was going on. I swear I could see a giant question mark over the whole cinema on first viewing, and a smaller version when I reviewed the new release DVD. But, like all great trilogies, the third installment is always the one to behold. Bring on The Matrix Revolutions."

Go to DVDanswers.com for Pete Roberts on the film, the transfer and the extras of The Matrix Revolutions DVD, due for release early next month.

red pill | from inside the mind of krix at March 17, 2004 03:14 PM .