eatm and smile
Wonderful fan and friend Petra, came across some great Dogstar clips from the EAT'M (Emerging Artists and Technology in Music) Festival in 1999.

THESE FILES ARE NO LONGER AVAILABLE
Since these are large files, once again they are in a password protected directory, and will only be available for a short time. Here's what you need to access them:
user: dogstar
pass: eatm
There are three live performance music clips, one being an unreleased song called Too Late (2.85MB)
Also, there's Halo (4.08MB), from the Happy Ending CD.
Plus there's an early version of Cornerstore (3.73MB), which is sort of cool to compare to the one that we're familiar with.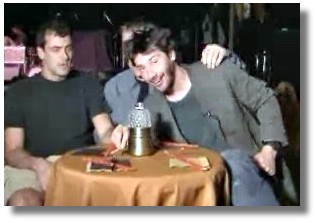 There's also an interview clip (5.29MB) with the whole band, Keanu's adorable ("My fellows" *swoon*), Bret's charming and Rob's quite funny as usual...and if you haven't heard where the name of the band came from, Rob answers that question.
Please right click the links and save the real media files, rather than streaming.
Also do not link directly to these files from another site.
dogstar rocks | from inside the mind of krix at February 23, 2004 08:04 AM .