beckynews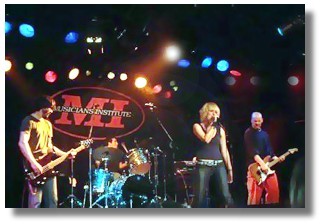 A message posted by Rob over at the beckybandboard sounds like things are moving forward toward the production of the bands debut CD.
happy new year everyone.

this year is looking to be our year. after loads of hard work, demo recording, shows and with the help of our fine web team, the word is out and people are listening and showing the love. our fan base is building and we thank you all for your understanding and patience.
the band would also like to thank our agent, keith, at w. morris for introducing us to jeff rabhan. we also like to thank jeff for introducing us to producer josh abraham. if all goes well we will start pre- production with josh on our first offical recording in febuary. (if he still likes us by then) we feel blessed to be in such company.
we will re- record some of the tunes that were up on the site, adding the new ones, and writing some more. we hope to deliver the best possible record that we can. we are done fooling around. its time to kick some butt.
we will also try to book a few live gigs next month.so see you soon.
we miss you all. be kind to one another.
love and good health, the band.
Maybe some gigs on the horizon as well? Groovy.
I'm so ready to see Keanu play bass again with my new peerspective (Bwahahaha! shyeah, right....*sniff*).
Seriously. I want to watch his hands.
becky | from inside the mind of krix at January 23, 2004 02:29 PM .