my roadie is 12" tall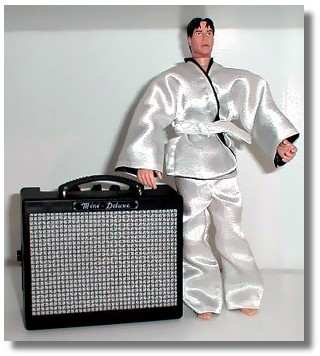 Is this not the cutest thing ever?
It's a Fender mini-amp and it actually works. It has a headphone jack and was about half the price of a Rockman, so I figure I can toss it in a satchel with a tuner and a cord and be fairly portable for practicing at the office and such. And did I mention it was cute? I'm such a girl.
Yes, I can practice bass in my office. Sometimes I don't hate my job.
So, my baby arrives tomorrow (FedEx tracks it in Phoenix today), and I can hardly contain myself. I'm going shopping tonight for some accessories (strap, a gig bag, etc) so I'm ready to rock when it arrives. Aieee. I can't wait.
I'm sure I'm going to have to invest in a real bass amp very soon. I was planning on just using the Yamaha guitar amp I already have, but have been warned about blowing out the cone.
Boom boom boom.
Yep, I can see that happening.
off topic | from inside the mind of krix at January 13, 2004 12:01 PM .