I wanna be "that girl"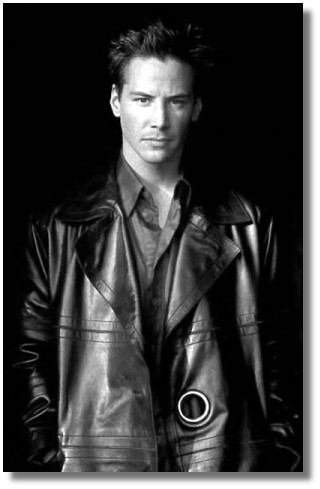 Thanks POTD for the link to this interview with Keanu. Excerpts below, read the whole thing at InSiteAtlanta.com.

A film junket press conference is a surreal event. Reporters from all around the world crowd into oddly shaped rooms and jostle with each other for a seat close to the "talent," many of them ultimately asking asinine questions that mean nothing. Such as when a reporter blurts out from the back, "Your character, Julian, is a confident character. Where do you get your confidence in real life?"

Keanu leans forward and says with mock seriousness, "From within. You know, there's a book I once read... No, I was playing a character. I thought he was well-rounded and grounded, and [portraying that was] the obligation of the role."

The actor's remarkably youthful appearance belies his age. How does he stay so young? "I have a picture in the attic," he says, smiling. How does he plan to spend his fortieth birthday next year? "For my birthday, I'll either be really alone, in the middle of the desert, or I'm going to have an outrageous party."

[...]

Yet another inane question gets asked– are you romanic in real life? "On good days," he says good-naturedly, but doesn't elaborate. And what, one reporter wants to know, is the craziest thing he's ever done for love? "My friends would probably say, 'Falling for that girl,'" he answers in typically enigmatic fashion.

A longtime bassist in the band Dogstar, Keanu was inspired by and brought up on punk music. Strangely, it's when talking about music that the actor is at his most animated. "I was a lucky kid who heard The Ramones, Violent Femmes, the Clash, Exploited, Joy Division... My worlds got a lot better. I found something I could express myself with– music I vibrated to."


Heh. He vibrates.

media spot | from inside the mind of krix at January 08, 2004 10:41 AM .