to occupy my time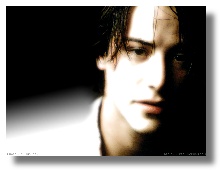 I did this yesterday to pass the time and keep me from giving in the temptation to surf. I made adjustments while I waited for Letterman to come on. I'm uploading it now to keep myself from futzing with it any longer.
"We would do it.
It wouldn't be good enough.
They would talk.
Then, they would come over and say,"
"Well, could we like this?" "And then we'd try
again. It's the way it should be.
We try it, look at it, you do it, you talk, you know?
Know when to leave it alone.
Know when to keep going.
I tended to not know to leave it alone,
and to keep going."


Keanu Reeves-
The Matrix Revisited
(on "Superperfect"
Quadruple Kick).

doodles | from inside the mind of krix at October 30, 2003 08:39 AM .