stuff of Legends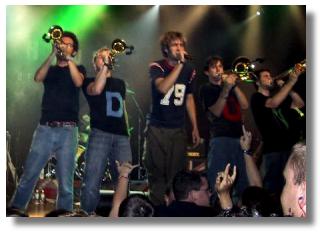 Yay! Suburban Legends, a great ska band that many of us fell in love with when they played with becky at last June's Musician's Institute show, will be playing here in Vegas this Sunday night.
Jillian's - Support the Scene
Suburban Legends, Melee, Solemite
Sunday, September 14, 2003
6pm - 9:00pm
Location: Jillian's, 450 Fremont Street
Las Vegas, NV
I'm so there.
AND for those of you that are going to see becky in Solana Beach on the 27th, the Legends will be playing at the Vans Triple Crown of Skateboarding event in Oceanside on the 28th.
The Pier
Oceanside, CA
Van's Triple Crown of Skateboarding
www.vans.com
That's like right next door to Solana Beach so if you're making a weekend of it you might want to check them out. Plus, there will be a bunch of hot little sk8er bois running around if you're into that sort of thing.
becky , off topic | from inside the mind of krix at September 08, 2003 05:16 PM .