two years two long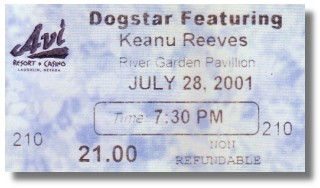 OK, so it's been two years since Dogstar has played in the states. I know that I have seen Bret play since then, and I've seen Keanu and Rob with becky but it's just not the same.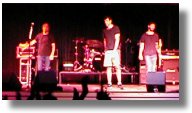 I want the three of them. Together. And I want my closest friends there with me, the ones that have been there and the new ones I've made.
I want the new fans that have not seen Bret to see the soul that he has. I want to hear the new stuff, I want to hear the old. I even want to hear Denial, even though it's usually the last song of the night because it'd mean I'd heard everything before it. I hope that we won't have to wait another two years to see the three of them together on stage again. I hope they know how many fans are still hanging in there, waiting for the word and ready for a road trip.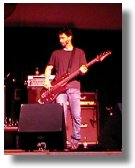 If I wake I only want
To dream again
Where everything is beautiful
And new again
When I sleep I always
Have a happy end
Lying with the lions
I'm so lazy and I'm loving it
I will not run I will not hide
When dreams and real life collide
I'm on the ground I'm taking fire
But I'll be sleeping sweet tonight
You can spread your words
Around me full of lies
You can paint a picture of me
In their eyes
You can burn my castle down
But realize
When you go to sleep tonight
I'll meet you on the other side
I will not run I will not hide
I will make you swallow all my pride
I will not aim and open fire
I'll be sleeping sweet tonight
Oh everything's so good
Everything's so good
hear it live (right click, save as, you know the drill)
dogstar rocks | from inside the mind of krix at July 28, 2003 08:55 PM .