Bachelor Number One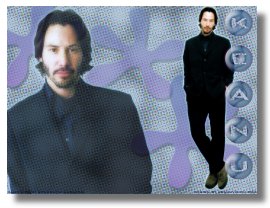 Long overdue new wallpaper.
I had so much fun making this, it reminds me of The Dating Game.


bachelor-ette krix: "Bachelor Number One, Would you consider yourself a romantic?"

bachelor no. 1:"Yeah. Not only in romance, but there's a certain part of me, especially coming out of a lot of like the kind of -- if you consider the tragedy of "Hamlet" or Romeo and Juliet, in the kind of melancholic aspect, and in romance, being with someone and saying, "Let's go. Let's get out of here." Impromptu acts or letters or phone calls or paying attention to what they like or love, and surprises, all those kinds of things to me are -- if you're in that situation, are quite fun not only to receive, but also to give, you know."

bachelor-ette krix, climbing over set divider: "Bachelors Two and Three, you might as well just go home now."

*POUNCE*

Jim Lange: "We'll be back after these messages! Cut to commercial!"
doodles | from inside the mind of krix at July 11, 2003 04:06 PM .