You say you want a Revolution, welllllll you know...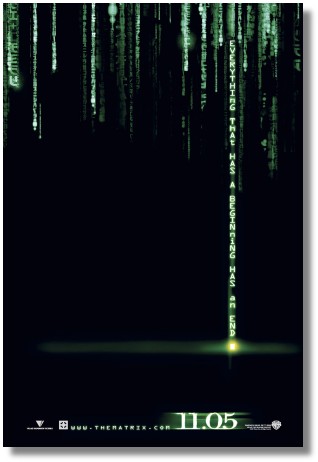 Here's a look at the first teaser poster for The Matrix Revolutions (Yay! 140 days!). I like it. Nice and simple, but still intriguing.
You can get a look at it a little bigger over here.
I really need to go see Reloaded again this week. I haven't even started trying to figure out what might happen in Revolutions.
If you think you do, you can go over to The Masked reviewer's site, where he's having a contest to predict just what the hell will go on in the final part of the trilogy. (via matrix essays)
I hope the soundtrack is good.
Send more Rob D.
Meanwhile, also over at the Official Matrix Site, I see there are a few new things to check out, including that they are auctioning off Niobe's costume for charity. If anyone has a spare 10k laying about, it's for a good cause.
Oh, and go say hi to the Miketrix. Groovy design.

red pill | from inside the mind of krix at June 17, 2003 04:16 PM .