I wonder if I will still be rooting for the machines?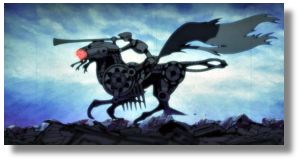 The Second Renaissance Part 2 is now up at the Animatrix official site.
The Second Renaissance parts 1&2 are the anime shorts that were written and directed by the Wachowski brothers and show us the events that lead up to the war with the machines. I really liked part one, and now I can't wait to get home to download and watch the second part.
red pill | from inside the mind of krix at May 06, 2003 03:46 PM .