TIME cover story (is chock full o'spoilers!)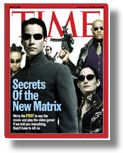 UPDATE:
I'm SO glad I haven't read this or gotten it yet.
Apparently it pretty much spoils the whole plot.
The Matrix is the coverstory on the newest issue of TIME Magazine.
I'm not sure if it is on the stands yet, I will look tonight.
[link to online article removed!]
The one with the twins at the top of the page has something spoilery, I think. I've already washed it out of my mind.
I think most of the current articles have some level of spoiler info, in order to tease the general public (those philistines that want to know what a movie is about before they go see it, pshaw!). So this next week you're pretty much taking a chance with anything you read. Now I trust that none of it will ruin the experience, but really...if you're a purist, best to lock yourself in a closet for the next 10 days. Or at least stay away from the net.
The main thing I'm going to be avoiding is reviews. God knows what sort of thing those enthusiastic lucky souls who get to see the movie before us mere mortals will let slip.
UPDATE: Looks like I will be avoiding most of the matrix boards as well. You're on your own, folks.
media spot , red pill | from inside the mind of krix at May 06, 2003 11:33 AM .