If I could only make it up to you....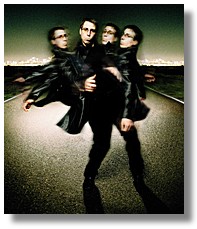 OK.
Not not only did I completely drop the ball by not linking the Wired article on J-Gae and the Matrix, but I get blogger demerits for slacking because I missed the Metafilter thread on the article, which you should check out, because Steve Silberman (the article author) is a MeFi user and actually particpates in the discussion.
"In person, Gaeta was very bright, forthcoming, and friendly, albeit with the personality quirks that I described in the article. (I'm in favor of personality quirks.) He didn't come off like a corporate lackey at all, but more like a very sharp geeky guy who has been able to make a living doing what excites him most."
Gosh, I love the internet.
red pill | from inside the mind of krix at April 21, 2003 10:43 PM .