GQ wallpaper? Sure!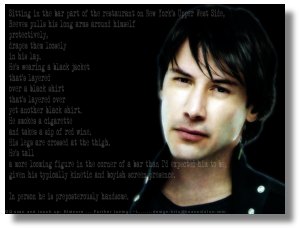 This is an extremely collaborative effort.
Of course, the original cleaned-up scan is thanks to Elsinore.
Then there was some fine tuning under the scrutiny of ~L.
(She's the one that pinned it down. I knew something was "off" but figured it was just the unfamiliarity of the bangs)
You see, we think there may have been just too much eyebrow.
Maybe it was a trick of the lighting, maybe it was done in touch-up.
Maybe the stylist just got overzealous.
Hell, I'd use any excuse to touch his face for as long as possible....
Who knows? Whatever they did to him, she fixed it.
And that was the picture I used for this wallpaper.
Of course, the quote is part of the GQ article.
I'm only going to be making 1024x768 sizes from now on to save on space. I have faith that y'all can figure out how to re-size as needed.
doodles | from inside the mind of krix at April 18, 2003 05:09 PM .