woof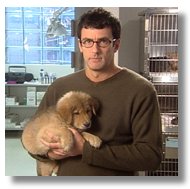 Few things induce spontaneous ovulation better than a cute guy holding a puppy.
And really, if that cute guy is Rob Mailhouse of Dogstar? Well, my panties just demolecularize completely.
Rob recently co-hosted a a fundraising documentary called "Love Unleashed: Stories of Heartbreak and Hope." The film, which includes a one-hour and a half-hour version will be broadcast in the Dallas/Fort Worth area on major network affiliates and independent stations up to eight times a month for up to three years.
Great cause, great guy. I feel all warm and tingly.
Thank you to littlezen on the Dogstar Message Board for this info.
dogstar rocks | from inside the mind of krix at February 23, 2003 03:31 PM .