Do they make PVC pants with those stretchy panels?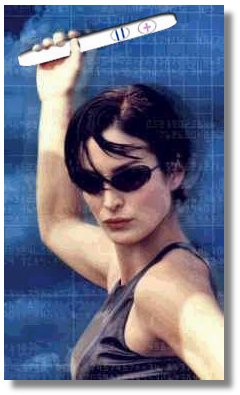 From E!online:
Carrie-Anne Moss: "Matrix" Mommy
by Lia Haberman
"No word if the Oracle predicted this one, but Matrix star Carrie-Anne Moss has revealed she's in the family way.
It's a first child for Moss and her hubby, fellow thespian Steven Roy, confirms the actress' publicist Jennifer Allen, telling E! Online Moss, "feels amazing. She and her husband can't be more thrilled."

Moss, 35, is due in early fall, Allen says. No other details were released.
The Canadian couple were married in 1999 and live in Beverly Hills, California.
Moss has spent most of the last two years shooting the Matrix sequels in Sydney, Australia, where Roy traveled to propose to the super-svelte action star. Shooting on the mind-bending sci-fi sequels wrapped in August 2002.
The Vancouver-born actress broke into Hollywood a decade ago with a role on Models Inc., Aaron Spelling's 1994 primetime paean to pretty faces. The series was canceled after one season, and Moss made the guest-star rounds of small-screen sci-fi shows such as FX: The Series and Spider-Man.
Then came a star-making turn as Trinity, Neo's tough-as-nails love interest, in 1999's The Matrix. Memorable roles followed in Memento and Chocolat and the not-so-memorable Red Planet. Next up, Moss escapes the sci-fi mold with a role in a modern-day thriller Suspect Zero with Aaron Eckhart. The movie's drop date (October 24) roughly coincides with Moss' delivery date.
Meanwhile, the much-hyped deliveries fans are waiting for: The Matrix: Reloaded and The Matrix: Revolutions are slated for release May 15 and November 7, respectively. "
Thanks to Jena for the article link.
And speaking of impending bundles of joy, my friend and webhost, Jennifer is due to give birth any minute now! (She was due the 17th)
Congrats to her and to Carrie-Ann :)
off topic , red pill | from inside the mind of krix at February 21, 2003 01:06 PM .