Could this be the big news?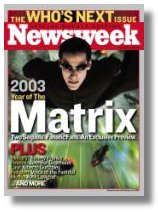 It's not on stands yet, (or it wasn't at the Borders I went to) but I might have a type-up for you later.
You will please to be noting that I SO CALLED the "year of the Matrix" thing on the calendar page.
I almost put it on the actual calendar but it was getting too gaudy as it was.
Whoa, I have periodical precognition.
UPDATE: Rhonda and Keanuette rock for sending me this link:
*SPOILERAGE***Consider yourself warned*
The Matrix Makers
One year, two sequels and a revolution in moviemaking. An exclusive look behind the scenes of 2003's hottest flicks. (click to read story)
Go now! there's groovy pictures.

media spot , red pill | from inside the mind of krix at December 22, 2002 04:29 PM .