I love my calendar guy
I thought I'd go ahead and get January's calendar up.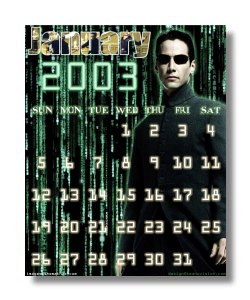 Do you think I can get the phrase "Happy Neo Year" to catch on??
And here's a little retrospective of the calendars for 2002, remember all of these will be removed from the server at the first of the year....
2002 Calendars
January
February
March
April
May
June
July
August (my personal fave)
September
October
November
December
Lemur love to Elsinore of The Daily Thud for many of the great scans and images used.
It's been a pretty good year, I'm sorry to see it come to an end in some ways, but looking forward, too.

doodles | from inside the mind of krix at December 21, 2002 12:42 PM .