More on MTV's Movie House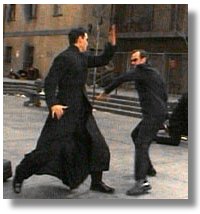 There is a transcript of Keanu's MTV Movie House interview up at mtv.com. Plus, there's a little slideshow available with some Smith/Neo fight pictures. As always, he looks exquisite when captured in motion.
This is all slightly spoilerish for the purists out there, but I just couldn't stand it. I had to look, and thanks to Rhonda, I'll catch the interview on tape.
I believe that it may be replayed later tonight so if you missed it, you should check your listings.
Also, thematrixonline.com has some news, uncluding an update to the official site. A 68.2MB hi-res version of the teaser trailer is now available, and there's a new Trinity Game.
red pill | from inside the mind of krix at December 06, 2002 08:23 AM .