Actual Keanu news!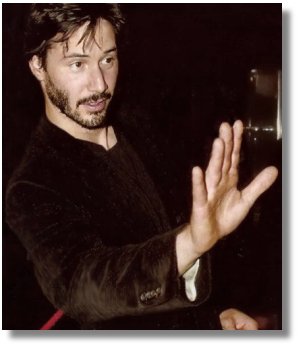 Wowsers, I woke up today and my inboxes were overflowing and all abuzz with news of three, count 'em, THREE movies that Keanu has signed on for in 2003.
(from Yahoo)
Keanu Reeves will fill out a love triangle with Jack Nicholson and Diane Keaton in an untitled comedy that marks one of three films he will shoot next year. Reeves will also star in 'Thumbsucker,' an indie adaptation of the Walter Kirn novel, and then move on to the previously announced 'Constantine,' the adaptation of the DC-Vertigo comic 'Hellblazer' at Warner Bros.
So, are we sure now that the Constantine is the Hellblazer story? Freaking Variety got me all confused last week. I hope that they were just wrong and that Keanu is going to play that right bastard, John Constantine, and not the religious historical figure. Because you know we're going to have dirty thoughts about him, and that's a little icky.
I don't have much to say about the Thumbsucker one, but I just ordered the book it's based on. According to IMDB, Elijah Wood is cast as the lead, so we can kiss our oral fixated Keanu fantasy goodbye. It's an indie so it's bound to be my favorite of the three. I know I'll like it more than the untitled Nicholson/Keaton film. I'm not a big romantic comedy fan. I know that lots of fans are and are extremely excited about it, though. It's the older woman thing. I'm happy he's getting to work with Jack.
Here's a couple links to the stories at Yahoo:
"Reeves Joins Nicholson, Keaton in Triangle"
"Dr. Reeves treats Meyers-helmed comedy for [Columbia Pictures]"
And there's some matrix stuff over at Film Force, too. Mostly about the philosophy section at the official site and the soundtrack.
cinema , constantine , media spot | from inside the mind of krix at December 02, 2002 10:15 AM .