Bill and Ted 3
Thanks to C.C. for the info that over at DarkHorizons.com there's a little blurb about the possibility of a Bill and Ted 3.

"Bill & Ted 3: Apparently Keanu Reeves indicated to Michael Parkinson that he's interested in doing another comedy in the series with him and Alex Winter playing their characters aged in their 40's."
We've heard murmurings about this before. I personally would LOVE to see this movie made. I've even come up with a few ideas...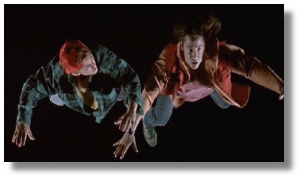 Bill and Ted's Bodacious Mid-life Crisis
The two great ones find themselves stranded in Vegas after a messy dual divorce from the historical babes. They use the time-travel booth to cheat and win big at Caesar's Palace. This gets them in trouble with the mob and they have to go back in time to get the Real Julius Caesar to help them out. Hilarity ensues.
(Alternate title-Bill and Ted 3: Dude, Where's my Hair?)
Bill and Ted's Righteous Gift to Humanity
Bill and Ted go back in time to Save Kurt Cobain's life and prevent Britney Spears from ever being born.
In an uproarious sub-plot, Rufus accidentally convinces the Beastie Boys that he's the Dalai Lama. Hilarity ensues.
Bill and Ted's Bogus Phone Bill
Bill racks up hundreds of thousands of dollars calling Miss Cleo. Ted tells him he's an idiot because "Dude! We can time travel." Jackie Chan guest stars as a collections agent. Hilarity ensues.
Bill and Ted's Grievous Error in Judgment
Bill and Ted abandon rock and roll in favor of emo and are never heard from again.

cinema | from inside the mind of krix at November 18, 2002 01:09 PM .