Two Words
"Hygienist TRAINEEEEEEEEE!"
All I had done today were the x-rays and exam and believe me, that was enough. Discomfort squared.
When someone is about to clamp a weird instument with sharp edges on your face, you really don't want to hear the words "I'm new."
I really wanted to bite her.
But didn't because she said I had "a small mouth", and frankly she was getting about as frustrated as I was.
The dentist herself was exremely nice. She does a lot of "special needs" work. When I got there there were two developmentally disabled young women and their caretaker in the waiting room. Peggy was having work done and was very nice and excited. Sheryl asked if I remembered her. I told her that I have never been there before but shook her hand and introduced myself. Peggy also wanted to shake my hand.
She told me that Dr. Patty was nice and went back to leaning on the caretaker and holding her cheek.
As terrified as I am of dentists, knowing that these two young women had no problem being there made my anxiety level diminish greatly.
Dr. Patty was nice, too. She answered my questions, told me how we would proceed with the work that needed to be done. Calmed me greatly after the x-ray fiasco and pretty much averted my impending freakout.
My next appointment is December 3rd.
In my dental future is:
-Wisdom tooth extraction
-Crown on broken back molar (she refused to pull it, guess it's not so bad)
-Cap (at least one, possibly others for prettizen* smile)
-Replace several deteriorated fillings.
-"Deep" cleaning.
-*possible* root canal (but after she explained it to me, it doesn't sound so bad, just like a really deep filling)

Scary, painful and expensive, but it will all be worth it when I can flash a killer smile at the next Dogstar show.
Speaking of killer smiles....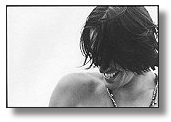 This Sky Mag is up for auction again.
I haven't seen this particular pic from that issue before.
*not a real word, just one I use. Must be pronounced baby-talk-like. Picked up from an ex with MPD.

off topic | from inside the mind of krix at November 05, 2002 02:25 PM .