Teased! Again!
Thanks to penelopez of KeanuSite for the tip that there are 6 new teaser posters out for The Matrix Reloaded, and they can be found at Ain't It Cool news...
or they could, rather if AICN's server wasn't taking a beating on that particular page.
They can be found at TheMatrixOnline or KeanuWeb.com, too.
The teaser posters live up to the "tease" part of the name, as they don't show you the whole face of the subject. They're really spiffy though, and I'd bet that they will be popping up on eBay before too long. All six would be a nice collection for all you hardcore Matrix buffs.

Of course, I simply had to make new wallpaper with the Neo one...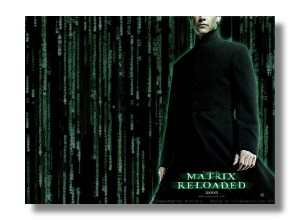 doodles , red pill | from inside the mind of krix at October 18, 2002 03:43 PM .