KR in NY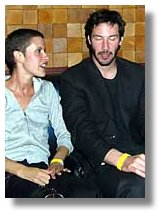 The NY Post reports that Keanu was partying down this weekend in New York.
I can see that our boy paid the extra five bucks for the armband so he could partake of the all-you-can-drink keg. Always the gentleman, I'm sure he paid for the lady's yellow bracelet, too. Looks like he's already a little fuzzy. I'm glad the Post cropped out the giant beer funnel in his left hand. Gotta think of image, you know. Hopefully that video of him leading a chorus of "Louie, Louie" won't surface anytime soon.
Those supermodels always throw the best parties.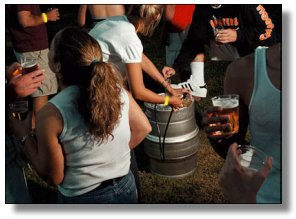 Meanwhile, back in L.A., Rob was overheard saying to Bret : "Dude, he just went to go get a tuner. He said he'd be right back."
media spot | from inside the mind of krix at September 23, 2002 11:11 AM .