September
September's Keanu calendar is up.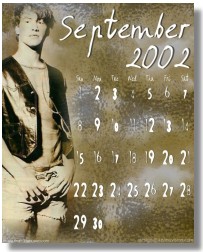 Only 5 days to Keanu's birthday. If I could know it would actually get to him, I would send him a Forge de Laguiole / Chateau Laguiole sommelier series Corkscrew and something(a Bordeaux perhaps?) vintage 1964. Along with a pair of nice glasses (does Dale Chilhuly do drinking vessels? I don't think so, maybe some Riedel crystal, then) and possibly my phone number...
What would you get Keanu for his birthday?
doodles | from inside the mind of krix at August 27, 2002 11:54 AM .