wish upon a bracelet
Thank you to kaz for this scan from a magazine called Girlfriend, from 1989.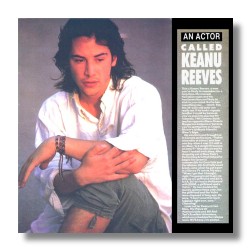 I think the thing I love about this picture, aside from the obvious, is that he's wearing friendship/wish-bracelets. It's neat to know that Keanu was donning these about the same time that my friends and I were. I don't think that they were just part of the photo shoot. I'm fairly sure I've seen other pictures where he has them.
I remember learning how to make them on a trip to Venice Beach one summer, could have been the summer of '88 or '89.
Yep, our little granola clan didn't need no playstation or PDA. All we needed was a few bundles of embroidery floss and a safety pin to pass the time. They got pretty fancy as our knot-tying skills improved. My friend, Elise would make really wide ones that took days to finish. I think I still have one she made for me in one of my many boxes'o'stuff that I'll never throw out. I always kept them after they fell off.
The best part was finishing one and giving it away. Making one special for someone, someone you cared about, tying it on them and knowing they were wearing it....even if they had to hide it under their watch at work.
And of course, the wishes.....some did come true.
media spot | from inside the mind of krix at August 13, 2002 11:10 AM .