Wanna grow up to be a Debaser
I rarely get into these quiz thingies, but considering that one of the answers includes lemurs and the fact that Keanu has been known to dig The Pixies, I declare this one ON-TOPIC!

Debaser
You're one cool cookie. You love movies, especially obscure ones, and you talk about them all the time. Even if people don't understand what you are talking about, they stick around anyway because you're just so much fun to be around. You don't always stand out in a crowd, but you can often be identified by your cluster of groupies and fans. You're usually the one throwing all the good parties, too.
Which Pixies song are you?
In an effort to improve the quality of the internet, I'm giving hoopty my old webcam, so we can look forward to a nekkid freakshow in the near future. Break out the jiffy-pop and practice your screen captures, it should be good.
Lastly, here's a new wallpaper: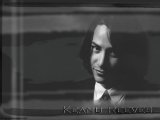 in
800 x 600
or
1024 x 768
Thanks again to Elsinore of The Daily Thud for the image.

doodles | from inside the mind of krix at May 14, 2002 01:02 PM .