Ecstasy Club
Looking for a book to read?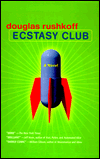 I suggest Ecstasy Club by Douglas Rushkoff.

"A darkly comic contemporary fable: a brave, very funny, very knowing trip through the neo-psychedelic substrate of the wired world."
--William Gibson
off topic | from inside the mind of krix at January 21, 2002 01:23 PM .