The Lake House Now Playing!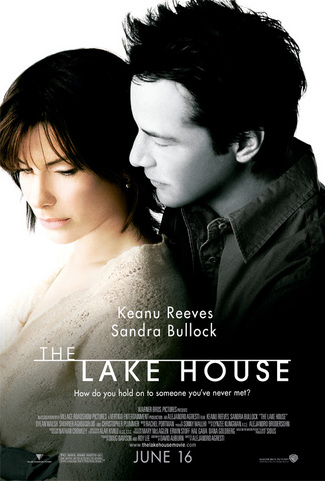 If you live in the US, The Lake House is playing at a theater near you!
V. and I have a date tonight to go see it.
Roger Ebert gave it a pretty good review. And here's some nice things said about Keanu's performance by Stephanie Zacharek over at Salon.com (daypass or subscription required).

" And if "The Lake House" has nothing else, at least it has Keanu Reeves. Bullock is perfectly serviceable here: Her performance has some gravity; she doesn't throw off the aura of desperate cuteness that sometimes dogs her. But Reeves is the soul of the movie -- he's not so much playing a character here as simply being a presence.

Reeves has the kind of casualness that people often confuse with "doing nothing." He's not an aggressive actor; what makes him so charming to watch, and so moving, is the way he keeps his emotions in check -- as if displaying them too baldly would be a way of disrespecting them. Reeves has some lovely moments here, many of them seemingly tossed off: When Kate (in one of the few scenes where the two characters speak to each other directly) explains why she so dearly loves Jane Austen's "Persuasion," he listens carefully, attentively, and then politely challenges Kate's devotion to a work in which a happy ending isn't guaranteed: "Why do you like that?" he asks, in a way that suggests he really wants to know the answer.

And in one of the picture's most beautifully shaped scenes, Alex looks at an old family picture and can't help breaking down. We live in an era when it's supposed to be OK for men to cry, but we feel uncomfortable when they actually do it. We want men to be open about their feelings -- but not too open. Reeves plays this particular moment as if Alex has revealed something of himself involuntarily. We feel as if we've intruded upon something private, a moment we weren't intended to see. Reeves isn't a splashy actor by nature; he thrives in negative space. But his slight reserve makes him more alive rather than less. Even when he's playing a dreamy romantic lead, he's never anything less than flesh and blood. "
I really like the aspect that the film is basically about a fantastic long-distance romance and am looking forward to vicariously reliving some of the feelings through Kate and Alex, with V. sitting beside me.
I expect he'll be getting some tonight.
lake house
| from inside the mind of krix at
01:25 PM