Comix Sale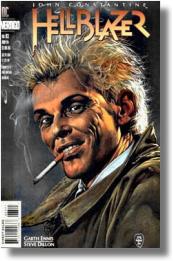 I have seventeen issues of Hellblazer I'd like someone to take off my hands:
15
20
30
31
37
82
83
84
85
87
88
90
98
99
103
112
& 118
They are all in good condition, some are in their own plastic bags still, others I had to put together in a bag. They span several different authors and artists.
Some MOST are very grim and disturbing.
The thing is, it's such a pain in the ass to group and list them over at the 'bay, pay the fees, yadda yadda so I thought I'd offer them up in one bunch to anyone here that might want them. It'll cost you 20 bucks, and that includes priority shipping in the lower 48. I'd rather not ship overseas because that involves a trip to the post office and I think we've established that my ass is currently in lazy mode. The other catch is you have to use paypal. If you are interested, leave me a comment with a valid email address.
This is not an auction, first come first serve.
Tyler gets 'em.
For anyone else that hasn't read any of the Hellblazer comics, I suggest you check out eBay. That's where I originally picked these up.

constantine | from inside the mind of krix at September 09, 2003 02:52 PM